Management
The Board delegates the authority for the day-to-day management of the business to the Chief Executive Officer, who is supported by a qualified senior management team and three management committees: Asset Management Committee, Assets, Liabilities and Investments Committee (ALIC) and Internal Control Committee.
Management Committees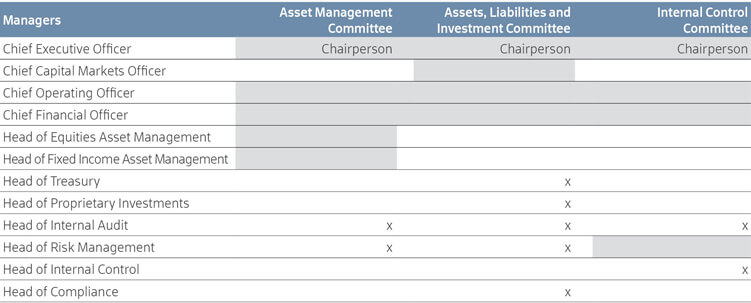 Asset Management Committee
Objectives
To oversee the fiduciary responsibilities carried out by the Asset Management Department in managing clients' discretionary portfolios as well as the funds operated and managed by SICO. It also reviews the investment strategy of the Bank's funds and portfolios,; reviews and approves portfolio performance; and reviews subscription, and redemptions, and compliance.
Asset, Liabilities, and Investments Committee (ALIC)
Objectives
ALIC acts as the principal policy-making body responsible for overseeing the Bank's capital and financial resources. It is also responsible for managing the balance sheet and all proprietary investment activities, including investment strategy and asset, country and industry/sector allocations. The committee is specifically responsible for managing the balance sheet risk, capital and dividend planning, forecasting and monitoring interest rate risk positions, liquidity and funds management. The committee is also responsible for formulating and reviewing the Bank's investment policies (subject to approval by the Board), strategies and performance measurement and assessment.'
Internal Control Committee
Objective
To oversee the Internal Control functions carried out in SICO by various departments. The remit of ICC is to look into strengthening the internal control culture throughout the company by ensuring that each department head takes ownership, responsibility and accountability for internal control. The Committee is entrusted with the responsibility to consult and advise the Board of Directors in the assessment and decision making concerning the Bank's system of risk management, internal control and corporate governance.