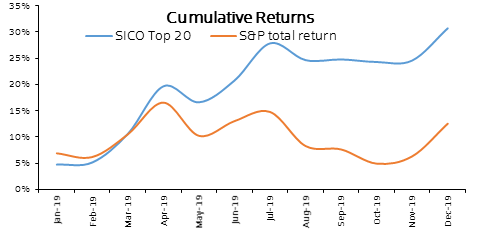 SICO Research's Top-20 portfolio delivers returns of 30.7% against benchmark S&P GCC index return of 12.5%
SICO Research's Top – 20 monthly product is a diversified investible universe of 20 stocks (model portfolio) provided by the sell-side research unit to its clients on a monthly basis recommending stock ideas across sectors within GCC markets. The recommendations come out of SICO Research's comprehensive GCC wide stock coverage of 80+ listed companies across 13 sectors. With limited churn each month, the portfolio is an ideal benchmark for any client investing in the region seeking to replicate and benefit from investing in top stock ideas within the GCC stock universe. During 2019, the recommendations saw a return of 30.7% (simple weighted average) versus its benchmark S&P GCC total return index performance of 12.5%, generating an alpha of over 18% during the year. The portfolio has achieved returns of 50.5% vs. the S&P GCC return of 29.3% since its launch in November 2017, up until December 2019.
The positive returns were generated by a combination of timely calls as well as in-depth research and quality analysis by the Research team, which has enabled them to consistently beat the benchmark index and generate higher returns for its clients.